Meet ISG's Newest Board Member!
Samantha Kenny joined the ISG Board February 2022. Samantha is a Project Manager at Southwest District Health (SWDH). She is fascinated with the intersection of health and community. Her background in public health has given her understanding of the social determinants of health and fueled a curiosity with the social and environmental systems that impact health and well-being. Having been born and raised in Idaho's Treasure Valley, Samantha witnessed firsthand the ways in which development and growth interplay with these systems. Cont . . .
---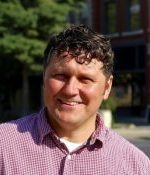 Nathan Murray, President, lives in Twin Falls, where he is the city's director of economic development as well as executive director for its urban renewal agency. Presently, he is overseeing four separate infrastructure improvement projects in downtown Twin Falls, valued at $20M. He also leads business recruitment and expansion efforts for the city which has received roughly $1.2B in capital improvements since 2012. A Boise native, Nate worked for 15 years in city planning and economic development in Utah. He holds a bachelor's degree in Latin American studies from Brigham Young University.
---
Sarah Martz, Vice President, has worked for Boise-based LeNir Ltd. since 2003. LeNir Ltd. focuses on real estate development, project management and consulting, including negotiating contracts and managing business relationships. Sarah currently is the project coordinator for the Harris Ranch mixed-use planned development in east Boise. She also serves as the president of the Harris Ranch Wildlife Mitigation Association.  Sarah has a degree in business management.
---
Hethe Clark, Secretary, is a land use and real estate attorney and partner at Spink Butler, LLP. His practice focuses on real estate transactions and guiding development clients through the local government entitlement process. Hethe is an active member of the Idaho State Bar, serving as Chair (2015-16) and an at-large council member (2016-Present) of the Idaho State Bar Real Property Section and an Editorial Advisory Board member for The Advocate (publication of the Idaho State Bar). He was honored by the Idaho State Bar as a Service Award Recipient in 2017. Hethe is also a board member of Boise Elevated, a member of the Urban Land Institute and a 2014 graduate of the Boise Metro Chamber of Commerce Leadership Boise Program. An Idaho native, Hethe is a graduate of Duke University and received his law degree from Washington University School of Law.
---
Ben Casiano, Treasurer, is an associate project manager for NW Real Estate Capital Corp., a 501(c)(3) low-income housing developer. In this role, Ben oversees construction schedules, manages multi-million-dollar construction budgets, assesses financial feasibility of proposed projects and provides financial analysis and reporting of projects in lease-up. Ben's past experience includes managing a portfolio of distressed commercial properties in the Midwest and on the West Coast in various stages of rehab and stabilization for a debt fund. He most recently worked in construction lending for a national bank overseeing hospitality, office and retail construction projects as well as residential subdivision developments. Ben has a B.S. in Finance from the University of Oregon and a Master's in Real Estate from Georgetown University.
---
Gary Allen is a land use and environmental attorney and partner at Givens Pursley as well as Founder and CEO of LeanLaw. Gary served as the lead author of the Idaho Land Use Handbook and has addressed entitlement, access and other land use issues before local government entities throughout Idaho. His land use experience includes commercial, residential, industrial and infrastructure projects, including some of the largest projects in the state. Gary has also practiced environmental law throughout his career focused on environmental compliance, permitting, transactions and litigation.
---
Nancy Chaney grew up hearing stories about her dad's youth in Sandpoint, then moved from California to Boise in 1969. In 1980 she moved to Moscow "for a couple of years," and has made it her home since. She served on the Moscow City Council, two terms as Moscow's mayor, and is a past president of the Association of Idaho Cities. In 2015 she was the recipient of the Idaho Smart Growth Charles Hummel Award. Nancy and her husband operate a small business in his specialty of veterinary ophthalmology. She holds degrees in nursing and psychology from Boise State University and a master's in environmental science from the University of Idaho.
---
Rob Hopper is a member of the Caldwell City Council and the chairman of the Valley Regional Transit Authority Board of Directors. Rob's civic interests have included efforts to revitalize Caldwell's downtown core, improve pedestrian and bicycle transit in the community, and improve the service level Caldwell provides its citizens. As a community leader, Rob serves on many other boards and committees. Rob is employed as CIO of Canyon County, and previously was an information technology consultant at Hewlett-Packard. The Hopper family has a long history in Canyon County. Rob's great-grandfather was an early mayor of Caldwell and his father served on the Caldwell City Council in the '70s.
---
Wyatt Johnson is an experienced civil trial lawyer whose practice involves real estate and related business ventures. Wyatt's law firm, Angstman Johnson, has a bike/walk friendly office in the heart of downtown Boise. He regularly practices before city and county planning and zoning authorities as well as various state administrative agencies. Wyatt has also served as chairman and vice chairman of the Litigation Section of the Idaho State Bar; a current member of the Supreme Court's Advisory Committee on the Idaho Rules of Evidence; past president of the Idaho Trial Lawyers Association; a member of the Board of Directors for the Arid Club; and the Advisory Committee for the West YMCA. He has two kids, two dogs and a wife who still tolerates him.
---
Jane Lloyd, Board Member Emerita, has been involved in civic issues for more than 20 years. She chaired the Boise Downtown Plan Committee, was a member of the Boise Comprehensive Plan Committee and organized the creation of the Business Improvement District and Downtown Boise Association. Before moving to Boise, she served as a city council member and planning and zoning commissioner in Montana. In recognition of her dedication to smart growth principles, Jane was presented with the 2014 Charles Hummel Award.
---