---
523 W Main St
This project is an unusual renovation of a vacant historic building (two buildings, actually) in downtown Caldwell. Rather than ready the building for immediate occupancy, the owner asked the design team to renew its core and shell and bring it up to current codes. The restored building now serves as a pioneer in updating the fabric of the historic downtown and can be marketed to potential building tenants with the option of finishing out the interior—or not—as they desire.
The work involved demolition of interior walls to create large open space featuring striking concrete mushroom columns and bowstring trusses, and restoring the exterior to its original masonry. Large industrial windows that had been blocked or broken have been replaced with new energy-efficient frames, and the building electrical and mechanical systems have been updated. The project involved assistance from the city of Caldwell and the urban renewal agency, including streetscape improvements and a shared parking arrangement. The result is a catalyst for modernizing and revitalizing the downtown, in keeping with the city's downtown master plan, that preserves its historic nature and distinctive sense of place.
---
Alturas Academy
The O.E. Bell Building in Idaho Falls has had its ups and downs. Built in 1928 as a junior high school, it was abandoned in 1970, renovated in 1999 as offices and a restaurant and then re-renovated in 2017 back to a school—home for the Alturas International Academy.
The project is a success story of collaboration that preserved the historic building, contributes to a historic district, offers a regional educational alternative, retained the well-loved Arugula Café and created some new neighborhood vitality.
It's a great example of how a well-designed, high-quality building can be reused over and over.
---
Fire Stations 8 & 4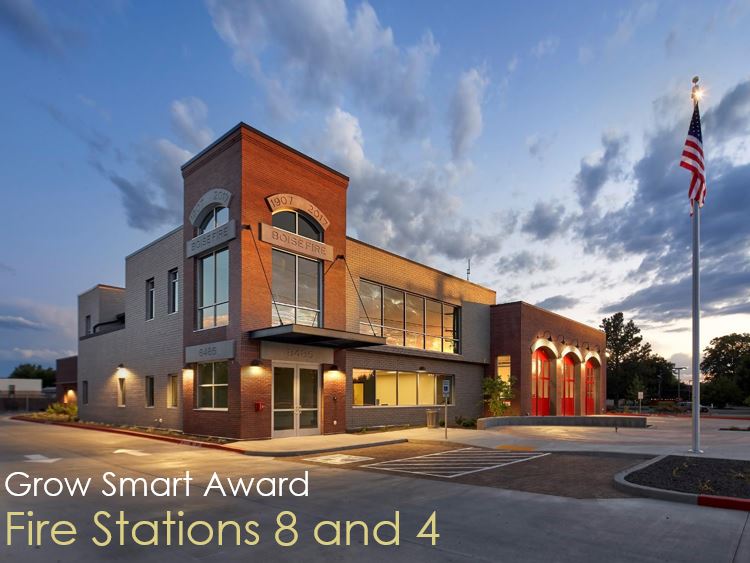 Boise's two newest fire stations presented an opportunity to fulfill a basic city need while putting smart growth and sustainability practices into action. Fire Station 4, in the historic Ustick neighborhood, is a new building that replaced an existing station built in the 1970s.
The project used public outreach and input from station staff to create a building that would serve as a catalyst for neighborhood revitalization. It uses design characteristics from early 20th century buildings in the area, with a strong street presence, historic brick and stone materials and precast arched bays, but it also includes up-to-date construction methods and a two-story layout to maximize the limited site.
Station 8 made use of a site with an abandoned restaurant on a very car-centric corner location. The redevelopment brought the new building forward to face both streets with a pedestrian-oriented design featuring a public open space. Both stations make use of public art in their plaza areas. They also set high goals in sustainable design: #8 pursued LEED Silver certification in the new rigorous Version 4 standard, and #4 elected to achieve the new Boise City Green Construction Code standard, similar to LEED v4-Silver with additional regional objectives. This dual effort will allow the city to measure and compare performance over time to help with continuous improvements in its sustainability goals.
---
Garden City Artisans Wayfinding
As a small city surrounded by other cities, Garden City has always been challenged to enhance its own community identity, especially as it evolves into a denser, urbanized city. One clear choice was to tap into its new residents, the emerging artist community and the new restaurants, breweries and wineries attracting visitors on the Garden City greenbelt.
A diverse group led by the Garden City Urban Renewal Agency began a discussion on "wayfinding" to help connect people with places.
The bold designs and implementation strategies that came out have done a lot to stimulate that sense of identity as well as the local economy.
---
Grove Plaza
The Grove Plaza is the centerpiece of the first urban renewal district in Idaho; and has become the heart of downtown Boise. Created by CCDC as a catalyst project in 1986–an island of bricks in a 4-block sea of dirt parking lots–the Grove Plaza has been the anchor for Boise's dramatic renaissance.
When the Central Urban Renewal District closed out this year it had leveraged 132 million dollars in nearby private investment and an increase in assessed property value of eleven-hundred percent over its 30-year lifespan.
Thousands more people live nearby and hundreds of thousands come to events each year. The Grove Plaza was renovated last year and there's every reason to believe that its best years are just beginning.
---
Leadville Bikeway
In early 2018 the Ada County Highway District adopted and began implementing the Leadville Bikeway Concept Study, a plan that creates a safe low-stress bicycle route on Leadville Avenue in Boise that parallels Broadway Avenue, a state highway with heavy traffic.
The bikeway uses signage and enhanced crossings to create an alternative route that is safer and more inviting for people using bicycles or walking to a number of neighborhood destinations, including downtown, the greenbelt, BSU, grocery stores, entertainment, parks and schools. The project is a result of collaboration among ACHD, the city of Boise, advocacy groups, BSU, Boise School District, neighbors and other citizens. It serves as a guide for later improvements in this neighborhood and is a model for other bikeways planned elsewhere in ACHD's Roadways to Bikeways Master Plan.
---
Moneyball for MPOs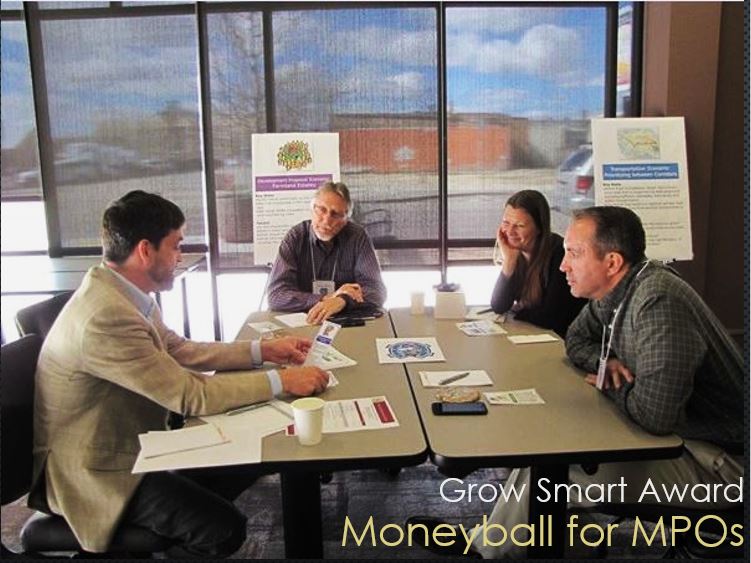 Ada and Canyon counties are among the fastest-growing in the nation, and COMPASS, the metropolitan planning organization (MPO), has a hard time helping citizens and policymakers in the region make transportation investment decisions that balance this growth with the very scarce finances available.
Taking a cue from the movie "Moneyball," in which the Oakland A's started using a data-driven approach to making decisions, COMPASS created a planning tool that uses 25 different data metrics to evaluate the outcomes of different proposed transportation investments.
The results will help everyone understand the benefits and real costs of investments and should lead to better quality-of-life decisions.
---
Mountain West Bank – 16th & State
This redevelopment of a busy bank branch had the goal of expanding to serve a growing population while also improving its neighborliness, accessibility, comfort and aesthetic contribution. The design team solved the problem by incorporating the existing building, moving parking, changing entrances and bringing the building up to the sidewalks on both streets. They effectively doubled the building size but made it more approachable to pedestrians and bicyclists.
By keeping the original mature trees and basic modernist materials and design they made it seem like "it's always been here," as one neighbor commented. The project takes advantage of sustainability strategies like building orientation and natural daylighting, reuse of materials, increased green space and access to transit. With thoughtful design and extensive outreach, the project avoided any opposition in this very engaged neighborhood, unlike a proposed development next door that drew widespread negative response.
---
Twin Falls Main Avenue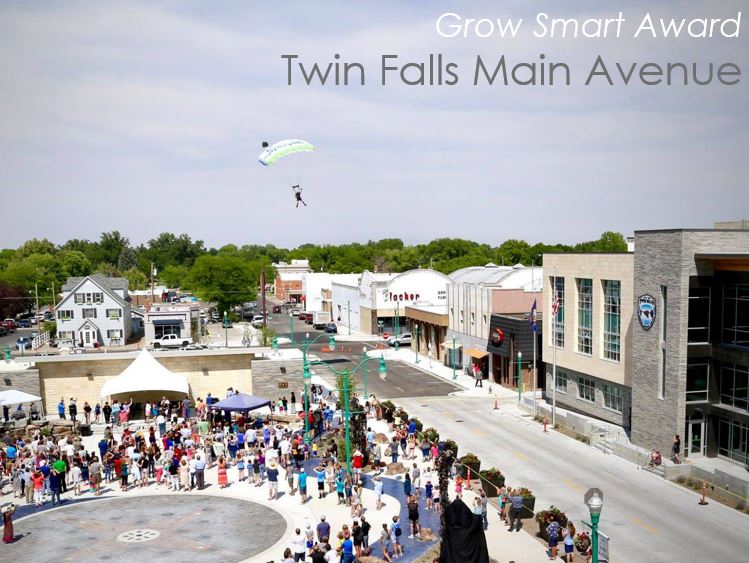 A wide range of public and private collaborators are working together to accomplish this metamorphosis of downtown Twin Falls through redevelopment of its historic main street and new adjacent public investments. The project is a shared vision captured in adopted strategic and comprehensive plans and implemented with help from the city, the urban renewal agency, the school district and the state highway department, as well as affected businesses and property owners.
The five- block Main Avenue central section and side streets received extensive modification, streetscape improvements and landscaping. New public investments include the Downtown Commons and Festival Block, gathering places, event spaces, water features, public art and other facilities. The new city hall is a dramatic presence on the renovated Main Avenue and already other new mixed-use projects are on the way—apartments, retail and offices—along with private renovations of stores, theater, church and restaurants. This community vision, aided by public investment, is already paying off.
---
The Watercooler
The Watercooler is a 37-unit mixed-use, live-work building located in Boise's Westside Downtown Urban Renewal District that accomplishes many of the goals of the district master plan. The developer, design team and urban renewal agency collaborated to bring a variety of housing options and retail vitality to an area of town very much in need of these catalysts.
The project provides outdoor public open space at the corner of Idaho and 14th streets that is also used by a café located in the corner of the building. It creates a recognizable and distinctive sense of identity through innovative uses of color, natural wood and geometric forms in both building and landscape design. A 3-story mural commissioned by the developer-owners that covers the entire west facade contributes to the sense of community for the occupants as well as the neighborhood.
---
Doug Fowler
The Charles Hummel Award is given by the Idaho Smart Growth Board of Directors in honor of the esteemed Idaho architect and Idaho Smart Growth co-founder. Since 2010, the board selects an individual who exemplifies Charles' personal integrity, dedication to smart growth principles and commitment to the built and natural environments. This year the board did not have to look far: Doug Fowler had left the board at the end of 2017 after a decade of service, including several years as president. The choice was an obvious one.
Doug is an Idaho native and graduate of Northwest Nazarene University. After a short stint teaching elementary school and managing a racetrack in the late '70s, Doug moved into real estate management and development and has worked in that arena ever since. His career included management and development of large projects in Arizona, Missouri and Guam before he moved back to Idaho. He led the renovation of the Vista Village shopping center in the early 2000s. Since 2004 he has been project manager of the Harris Ranch development in Boise, steering the new urbanist redevelopment of 1,200 acres with 2,678 residential units and
1.39M square feet of commercial space amounting to more than $400M in land value alone. The Harris Ranch Specific Area Plan, a first in Boise, earned a Grow Smart Award in 2007.
In addition to his years on the Idaho Smart Growth board, Doug has also held leadership roles in many other local and national nonprofits, including Global Initiatives, Partners for Livable Communities, Boise Elevated, Urban Land Institute Idaho Council, Boise River Enhancement Network and Camp Rainbow Gold.
Doug is the rare developer whose insistence on doing things right is infectious. Everyone who has worked closely with him has appreciated the experience. The lesson of his long commitment to community development is that nothing good happens overnight— it takes a long view, transparency, outreach and persistence. Most importantly, it takes an unflagging sense of humor.