Date: April 13, 2018
Contact: Scot Oliver, 208-333-8066
BOISE, ID – Just as the US Census Bureau names Idaho the fastest growing state in the nation, three new members have been elected to the Idaho Smart Growth Board of Directors, to help guide the statewide nonprofit that works with Idahoans to build stronger and healthier communities. The three include a former mayor, an economic development director and a real estate banker, and they bring a wide range of experience and expertise to the organization.
"We're fortunate to have these folks step up to our team," said Scot Oliver, ISG executive director. "The challenge of accommodating new growth in Idaho while preserving our quality of life has never been greater, and right now we have a stellar group leading us."
Nancy Chaney grew up hearing stories about her dad's youth in Sandpoint, then moved from California to Boise in 1969. In 1980 she moved to Moscow "for a couple of years," and has made it her home since. She served on the Moscow City Council, two terms as Moscow's mayor, and is a past president of the Association of Idaho Cities. In 2015 she was the recipient of the Idaho Smart Growth Charles Hummel Award. Chaney and her husband operate a small business in his specialty of veterinary ophthalmology. She holds degrees in nursing and psychology from Boise State University and a master's in environmental science from the University of Idaho.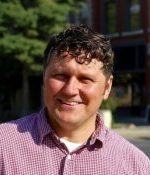 Nathan Murray lives in Twin Falls, where he is the city's director of economic development as well as executive director for its urban renewal agency. Presently, he is overseeing four separate infrastructure improvement projects in downtown Twin Falls, valued at $20M. He also leads business recruitment and expansion efforts for the city which has received roughly $1.2B in capital improvements since 2012. A Boise native, Murray worked for 15 years in city planning and economic development in Utah. He holds a bachelor's degree in Latin American studies from Brigham Young University.
Ben Casiano is an assistant vice president in US Bank's Commercial Real Estate Division specializing in real estate development financing. In this role, he works with the Boise area's largest developers to provide creative financing solutions for development projects. Born and raised in Idaho, Casiano received a bachelor's degree in finance from the University of Oregon and will complete a master's in real estate from Georgetown University in August, 2018. He has conducted research on the world's first LEED Platinum certified building and on assessing life cycle costs for high-performance building systems.
The new board members were elected for three-year terms. They join current directors Gary Allen, Matt Blandford, Hethe Clark, Melissa Galli, Sharon Grant, Michelle Groenevelt, Rob Hopper, Wyatt Johnson, Renee Magee and Sarah Martz.
Idaho Smart Growth is a statewide nonprofit organization that brings people together to create great places to live, through education, advocacy and training on issues in land use, transportation and community development. For more information contact 208-333-8066 or go to idahosmartgrowth.org.
###